Meet Jazz: 2014 Voice For Equality Honoree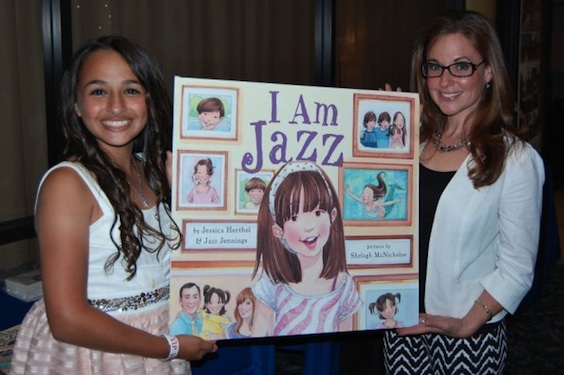 She speaks to us with such tremendous clarity, of a truth so incontrovertible, and with just one clarion demand: "see me the way I see myself". Fourteen year old Jazz Jennings is the Equality Florida "Voice For Equality" honoree for 2014, and I thought you'd like to get to know this remarkable young woman a little before you meet her on November 16th at the Equality Florida Broward Gala!
Jazz was assigned male at birth, the fourth child of the family. Her mother notes that there was never a time when Jazz didn't opt for the gender normative activities and playthings typical of little girls. Jazz always insisted she was a girl, and was only three when she made it known that she wished for gender reassignment (done magically by the wave of a good fairy's wand, of course)! So it was that Jazz became one of the youngest children to be diagnosed with Gender Dysphoria.
Jazz's parents made sure that they did not encourage her in one direction or the other, and only supported her self expression, yet Jazz's determination to live as the girl she knew herself to be only grew stronger. At Jazz's fifth birthday party, while still sporting a boyish haircut, she was allowed to wear her favorite rainbow-hued one-piece swimsuit--thereby coming out to her little world as a girl for the very first time.
Jazz's parents have made it their mission to give Jazz the most 'normal' life possible, while at the same time making the education the American public about the reality of the transgender experience. Barbara Walters interviewed her for the first time when Jazz was only six, and was told, "I have a girl's brain and a boy's body."
Here are a few links to videos about Jazz's amazing journey, including interviews by Barbara Walters, and the one-hour documentary: "A Family in Transition,":
A Family in Transition
7 year-old Jazz speaks out
Barbara Walters 20/20 special 2007-part 1
Barbara Walters 20/20 special 2007-part 2
Jazz on 20/20 at eleven
Jazz has gained poise and self-confidence with each passing year as she grows into the role of national advocate and spokesperson on transgender issues. In 2013, together with Jessica Herthel, she wrote her autobiographical children's book, "I am Jazz." Celebrated children's book illustrator, Shelagh McNicholas brought the pages to life with beautiful, vibrant drawings. On September 14th, this year, "I am Jazz" was released!
When Equality Florida announced to Jazz that she was to be the 2014 Voice For Equality Honoree, there was much excitement! Of course her family and co-author, Jessica, would be there, November 16th at Pier Sixty-Six in Fort Lauderdale, but what about Shelagh, who lives in Scotland, and who Jazz has yet to meet?
Jessica Herthel, the co-author, began a fundraising effort on the crowd-funding site, "Go Fund Me." If you would like to help bring Shelagh and her daughter to meet Jazz for the first time, go to: www.gofundme.com/IAmJazz to make a contribution! A donation of $100 or more will earn the donor an autographed copy of "I am Jazz."
Since the announcement of The Voice for Equality award by Equality Florida, Time Magazine has named Jazz one of 2014's 25 most influential teens, and just last week she was interviewed by Katie Couric on national television.
"Few people in the transgender community have articulated their true gender feelings with more clarity and passion than Jazz Jennings," said Gina Duncan, Equality Florida's Transgender Inclusion Director. "From an early age, Jazz has been an inspiration, mentor, and a motivator for the transgender community. She is the true embodiment of authenticity."
Would you like to meet Jazz? Tickets are still available to attend the Equality Florida Broward Gala, 6:00 p.m. Sunday, November 16th, at Pier Sixty-Six in Fort Lauderdale. Jazz, Jessica and Shelagh will be autographing "I am Jazz," which will be available for purchase. All proceeds will be donated to the TransKids Purple Rainbow Foundation to help all transgender children.
For more information or to purchase tickets, go to eqfl.org/browardgala or call Hannah at 407-451-5460