BREAKING: AG Bondi Seeks To Delay Marriage in Florida...Again
PLAYING POLITICS, FLORIDA'S AG BONDI PETITIONS FOR EXTENDED STAY IN MARRIAGE EQUALITY RULING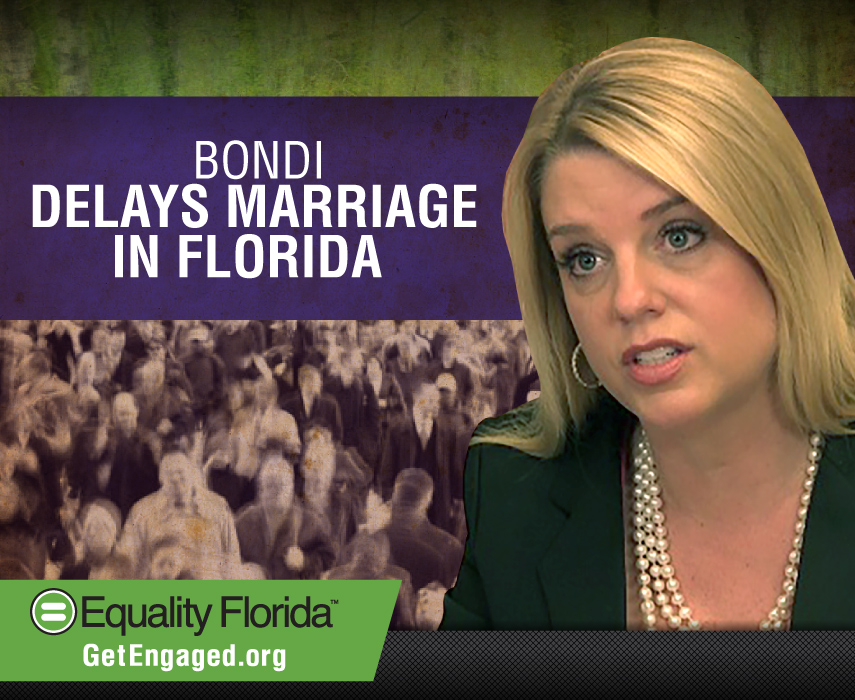 In a last-minute move today, Attorney General Pam Bondi has asked Judge Robert Hinkle to extend the stay of his decision to allow same-sex marriages to begin in Florida, despite four court rulings to the contrary.
"We are extremely disappointed, but not surprised by Attorney General Bondi's decision to ask for the stay," said Nadine Smith, Equality Florida CEO. "Time and time again, she's had the opportunity to stand on the right side of history and stop pandering to her conservative base by denying marriage to loving couples. Yet every single time, Bondi has chosen to defend discrimination and ignore the suffering of thousands of Florida families.
"Bondi is woefully out of touch with the majority of Floridians who now support marriage equality, and her continued attempts to defend the state's discriminatory marriage ban are sure to fail, just as bans in 13 states have fallen in just the past month," added Smith.
This attempt to continue to exclude same-sex couples from marriage also stands contradictory to Attorney General Bondi's decision not to appeal the marriage recognition of Arlene Goldberg and her late wife, Carol Goldwasser, from Judge Hinkle's August 21 ruling. In his ruling, Judge Hinkle ordered the State to issue a new death certificate for Carol Goldwasser, naming Arlene Goldberg, her partner of 47 years, as her wife.
The decision now lies with Judge Hinkle whether to accept or reject Bondi's request for an extended stay of his ruling.
"Equality Florida applauds Judge Hinkle's sound ruling declaring our state's marriage ban unconstitutional," continued Smith. "We hope he will now move swiftly and reject Attorney General Bondi's request, paving the way for marriage equality to finally come to the Sunshine State. It is a travesty that same-sex couples and their families have been forced to wait this long to be legally recognized and have equal protection under the law.
"We hope and believe that Judge Hinkle will reject Bondi's request to delay marriages in Florida while she continues her senseless appeals, just as the 9th Circuit Court of Appeals and the U.S. Supreme Court have refused to postpone same sex marriages in Idaho and Alaska while those states continued their appeals. It's time to stop playing politics with people's lives!"
To read Attorney General Bondi's request to extend Judge Hinkle's stay, click here.
Check back here as the news develops...