NEWS RELEASE: FLORIDA RECOGNIZES FIRST SAME-SEX COUPLE
MARRIED: FLORIDA RECOGNIZES FIRST SAME-SEX COUPLE
Arlene Goldberg officially listed as wife of Carol Goldwasser on death certificate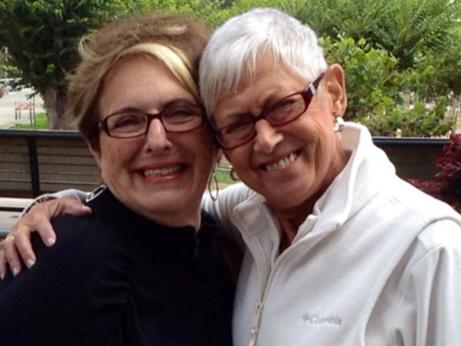 FORT MYERS, FL – On the heels of a groundbreaking decision by the Supreme Court Monday that brought the freedom to marry to a majority of Americans, Florida also made history today as Arlene Goldberg and her late wife, Carol Goldwasser, officially became the first same-sex couple whose marriage is respected in the state.
US District Court Judge Robert Hinkle ruled on August 21, 2014 that Florida's ban on marriage for same-sex couples was unconstitutional and – despite a stay on his ruling –ordered the State of Florida to issue a new death certificate for Carol Goldwasser, naming her partner of 47 years, Arlene Goldberg, as her wife. Arlene was first added as a plaintiff in Grimsley and Albu v. Scott when the ACLU filed a motion of preliminary injunction in April asking the court to immediately stop enforcing laws barring legal respect for marriages between same-sex couples.
Today, Arlene received that newly-issued death certificate, making her and her late spouse the first same-sex couple to have their marriage recognized in Florida.
"It's hard to put into words how meaningful this is to me," said Goldberg. "For 47 years, Carol and I made our lives together, all the while being treated like strangers in the eyes of the law in Florida. It's bittersweet that Carol isn't here to share this joy with me, but for the first time in 47 years, our marriage was respected. Our relationship and commitment to each other is finally recognized. "
"Couples shouldn't have to wait until one spouse dies to receive the recognition and dignity that they deserve," said Nadine Smith, CEO of Equality Florida. "We share in Arlene's joy that her marriage to Carol is now recognized, even if only posthumously, but we are more committed than ever to seeing the day when all Florida couples and families are treated fairly and equally. The Supreme Court has sent a clear message this week that there is no good reason to continue excluding same-sex couples from marriage. It's time for Governor Scott and Attorney General Bondi to use their power as top elected officials in our state for the good of all Floridians. Families in Florida should not have to wait another day, and we renew our call on them to drop their appeals and let marriage for all couples move forward in the Sunshine State."
Since July 2014, four state judges and one federal judge have ruled that Florida's ban on marriage for same-sex couples is unconstitutional. Nationwide, there have been 40 pro-marriage rulings since the Supreme Court's decision in Windsor last June.