Equality Florida Institute's Safe and Healthy Schools Program aims to create a culture of inclusion while countering the bullying, harassment, social isolation, and bigotry that dramatically increase risk factors for LGBTQ (lesbian, gay, bisexual, transgender, and questioning) students.
Through this program, we seek to shift the culture so that each of Florida's 67 school districts will adopt comprehensive, nationally recognized best practices for meeting the needs of LGBTQ students and in doing so build a model that can be replicated nationwide.
During the 2016-17 first school year of our Safe and Healthy Schools Project, we estimated working within 3-5 school districts to help Superintendents and upper-level leadership chart a course for institutionalized LGBTQ student, family and staff support. We have shattered this goal and as of Fall 2018 are working with 60 school districts across the state, and have delivered LGBTQ+ sensitivity and best practice professional development training to over 5,300 principals, assistant principals, as well as school counselors, social workers, and school psychologists. During this time we have also met with 22 Superintendents, and will continue our steadfast, groundbreaking work to ensure every student in our school districts are safe, valued, respected and graduate successfully.
This program is different from our previous endeavors on behalf of LGBTQ youth, both in depth and scope. It aims to transform entire school systems by ensuring that the school districts themselves invest in and take full responsibility for meeting the needs of LGBTQ students. We expect that the first school systems we work with will have the requisite training and resources to take full ownership of the program's outcomes and financial sustainability after three years, allowing Equality Florida Institute to move on to other school districts, with the goal of replicating this program in districts throughout the state.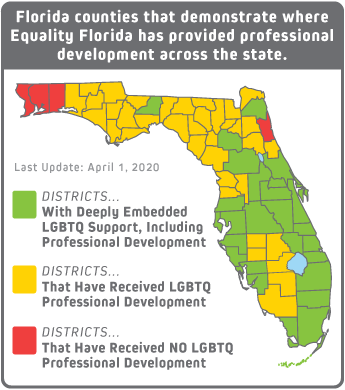 Equality Florida's Safe and Healthy Schools program is working across the state with senior leadership, including superintendents, to assist districts in becoming more inclusive for all students. As part of these efforts, we host an annual All Together Now Conference. This conference is led by the tri-district steering committee (Broward, Palm Beach, and Miami-Dade School District, along with Equality Florida). The video above includes just a few highlights from our conference.
The purpose of the "All Together Now: Ensuring Safe School Environments for LGBTQ Students Across the State" conference is to gather upper-level school district officials from across the state to discuss and learn about the unique needs of LGBTQ students and families. Each year we have dynamic programming that includes sessions such as a superintendent's roundtable discussion, family acceptance panels, GSA workshops, and legal expert testimonials.
This conference, the only LGBTQ school administrator leadership conference devoted solely to institutionalizing LGBTQ policies, programs and practices, is a cornerstone of the work that Equality Florida does and is critical in expanding best practices across the state for supporting LGBTQ youth.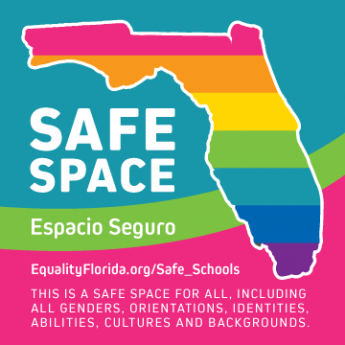 Are you an LGBTQ ally? Demonstrate your allyship by placing one of our safe space stickers in your classroom or office. Click here to order. 

The Safe and Healthy Schools program is working to ensure proven best practices are implemented at a systemic level in every school district. The graphic below highlights the best practices that should be occurring in every school district, as well as some benefits to implementing said practices. Superintendent Grego from Pinellas and Superintendent Runcie from Broward have welcomed all and keynoted the conference, now in its 6th year with 36 districts in attendance, representing over 130 upper-level administrators who care for 70 percent of our students in Florida's schools. Equality Florida believes that if a district implements all of these best practices, LGBTQ youth will not experience the negative data that is evident based on the 2017 YRBS data and be able to feel safe, stay in school and ultimately graduate successfully.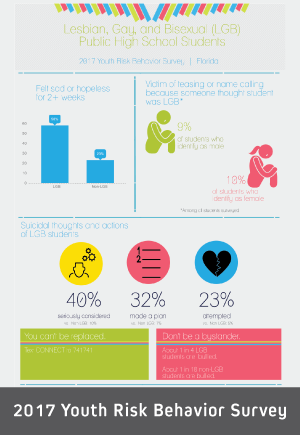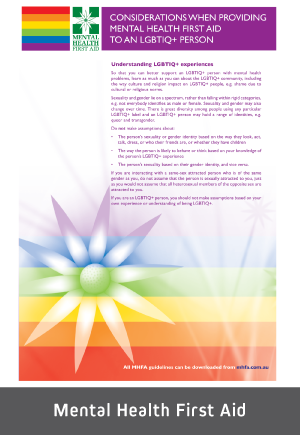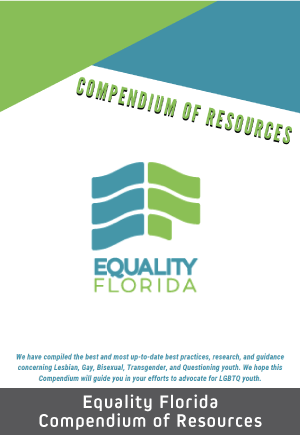 Support has been provided by the following Funds at the Community Foundation of Broward:
Mark & Carol Zemmel Fund for the Human/Animal Connection, Krupnick Campbell Malone Buser Slama Hancock Liberman Fund, Susan and Jack Loving Unrestricted Fund, Richard Frisby and Edward Burkhart Fund, The Knight Foundation Fund, Mary N. Porter Community Impact Fund, and Gay and Lesbian Broward Community Fund