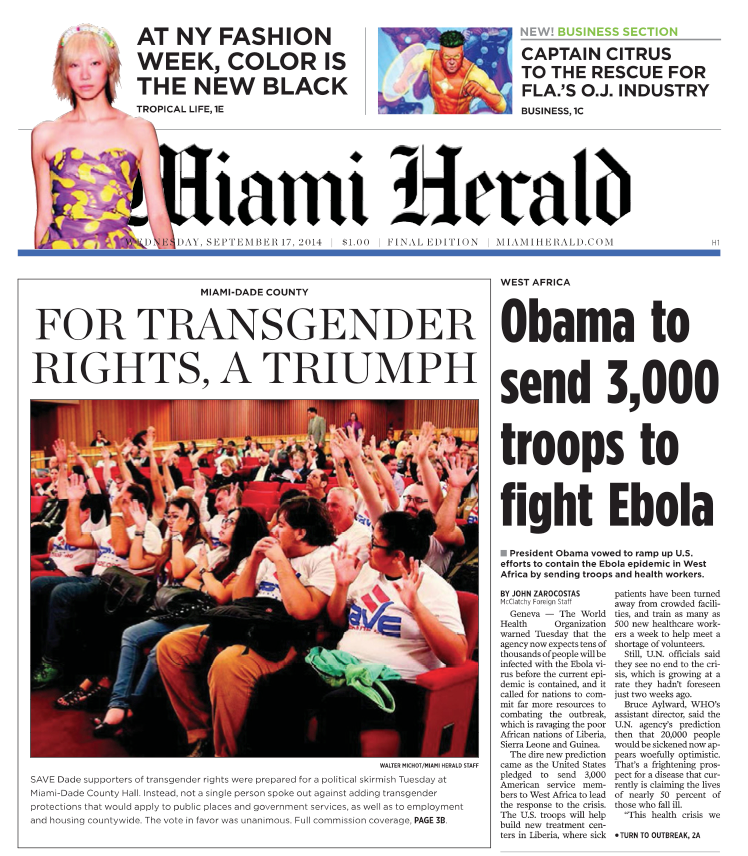 MIAMI 
In the past 24 hours 
Miami Dade leaders voted unanimously to move forward on adding Gender Identity/Expression in Miami-Dade. The coalition led by SAVE brought the issue back after it had been sidelined last year. Check out the front page of the Miami Herald. 
BOYNTON BEACH 
By a margin of 4-1, the Boynton Beach (Florida) City Commission voted last evening to (a) implement the full range of domestic partnership benefits for municipal employees, (b) amend the city's nondiscrimination policies to prohibit discrimination based on "gender identity or expression" and (c) direct the City attorney to draft and LGBT-inclusive Civil Rights Ordinance for consideration later this year. The actions were taken as the result of requests made by PBCHRC in mid-July. Mayor Jerry Taylor cast the "no" votes on all three proposals.
and today 
HILLSBOROUGH COUNTY
Passed on first reading a nondiscrimination ordinance to add Sexual Orientation and Gender ID and Expression. 
AND they voted unanimously to move forward a DPR, and effort that failed roughly a year ago. 
MOMENTUM!