Making Great Strides in DC on ENDA!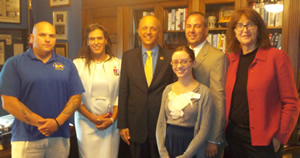 (L-R) Justin Covington, former member of SEAL Team 6; 

Kristin Beck, former member of SEAL Team 6; 

US Congressman Ted Deutch; 

Mallory Garner-Wells, Public Policy Director, Equality Florida; 

Michael Emanuel Rajner; 

Mara Keisling, Executive Director, National Center for Transgender Equality
(L-R) Justin Covington, former member of SEAL Team 6; 

Kristin Beck, former member of SEAL Team 6;

and U.S. Congressman Patrick Murphy.
On Thursday and Friday of last week, I went to DC to lobby members of the Florida delegation on the Employment Non-Discrimination Act (ENDA). I was joined by Broward activist, Michael Rajner and Kristin Beck, a 20 year member of the Marines and a retired member of SEAL Team 6 who is recently transitioned to female.
Thursday morning, just after landing, Michael, Kristin and I raced over to the Capitol Building for a meeting with US Senator Bill Nelson. His staff escorted us to a reception area just off of the floor of the Senate, and eventually the Senator walked off the floor and sat down to meet with us.
I came to the meeting prepared with booklets and factsheets about discrimination, but the highlight of the meeting was Kristin telling her story to the Senator. After she was finished, we were able to engage in some frank dialogue with Senator Nelson about what it means to be transgender, and the process individuals go through in order to transition. After the meeting, one of his staffers called the meeting "powerful".
Later in the day we had the opportunity to meet with the Chief Counsel for Senator Marco Rubio (the Senator was unavailable as the vote for Comprehensive Immigration Reform was that day). We were able to lay out why ENDA is so important and talk about how municipalities in Florida and the private sector are already providing non-discrimination protections. The Senator's staff asked some really important questions about implementation of the law, and promised to keep an open dialogue about the issue. While no commitments were made, I do feel the meeting was informative for the staffer and I think we have someone in that office we can go back to as the issue moves forward.
For the rest of Thursday and Friday, we were able to meet with other members of the Florida delegation, including Rep. Lois Frankel; Rep. Patrick Murphy; Rep. Ted Deutch and staff for Rep. Kathy Castor; Rep. Alcee Hastings; Rep. Debbie Wasserman Schultz and Rep. Alan Grayson. In our meeting with Rep. Deutch, he recalled being the bill sponsor for a statewide non-discrimination bill during his time in the Florida Senate, and credited the lobby work of Equality Florida in helping him evolve on the need for gender identity and expression inclusion.
For many of our visits, we were joined by Mara Keisling, the Executive Director of National Center for Transgender Equality. As someone who frequents Capitol Hill, her experience was invaluable.
Being in the Capitol gave us the opportunity to talk to lawmakers who are not a part of the Florida delegation. We spoke with Senator Tammy Baldwin, the first lesbian ever elected to the United States Senate; Massachusetts Senator Elizabeth Warren; Rhode Island Senator Sheldon Whitehouse; and Alabama Senator Jeff Sessions.
Wherever we went, people responded to Kristin's story. One of the things that stuck with me most was meeting Kristin's friend Justin. Justin and Kristin served together on SEAL Team 6. On Thursday evening, Justin met Kristin, Michael and I at the hotel bar for a drink. In talking to this self described "rough-neck" I was blown away by what he had to say about Kristin's transition. Justin said he was "liberated" after he found out his friend Chris had become Kristin. He felt liberated because he realized all of the stereotypes and all of the boxes we try to put people in according to gender or sexuality don't apply. He told me Kristin was the toughest of the tough and if she wanted to wear a dress, then by gosh, that was fine with him.
I enjoyed what he had to say so much, we invited him to accompany us on our Friday visits. It was Justin's first time lobbying, and he was a natural. Each time Kristin told her story, and Justin added his thoughts as someone who served with her, you could see a light come on for those listening.
Upon walking into Representative Murphy's office, Beck and Covington paused to a moment to honor their fallen team member Navy Chief Petty Officer Aaron C. Vaughn of Stuart, FL who was among those featured in a tribute poster "Remembering the Fallen Soldiers of Florida's 18th District. Murphy personally presented both Beck and Covington with the first Congressional Service Coins issued by his office.
My two days lobbying in the US Capitol were exciting and most of all made a difference. In the coming months we expect to see ENDA brought back up for a vote in the US Senate, and we will continue to push both of Florida's Senators to vote yes.
Special thanks to Kristin for demonstrating once again the power of each of us authentically telling our story. Kristin's willingness to share her story has made a powerful impact on the thoughts and future actions of the lawmakers we met.
- Mallory Garner-Wells, Public Policy Director, Equality Florida
See the video below to hear about the evolution that Representative Ted Deutch experienced after our meetings.