A Legal Update on the Florida Lawsuits for Marriage Equality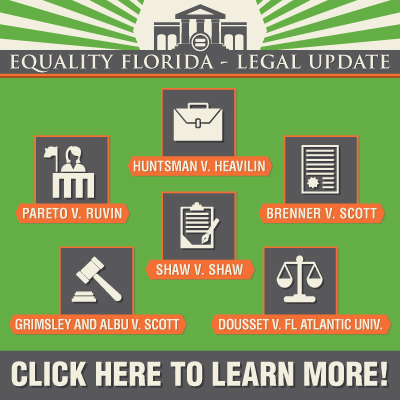 Currently there are six lawsuits in the state of Florida in the quest for marriage equality.
As the cases makes their way up through the courts, Floridians across the state will continue to do the work of having conversations about why marriage matters and creating a climate for victory.
(recaps courtesy of Freedom to Marry)
Pareto v. Ruvin
What's Happening:
On July 2, 2014, Miami-Dade Circuit Judge Sarah Zabel will hear arguments in this state lawsuit with federal claims filed by the National Center for Lesbian Rights and the Equality Florida Institute.
Case Background:
On January 21, 2014, the National Center for Lesbian Rights and the Equality Florida Institute filed a lawsuit in state court with federal claims on behalf of six same-sex couples seeking the freedom to marry in Florida. The lawsuit argues that laws in Florida that restrict marriage to different-sex couples violate the United States Constitution's commitment to equal protection under the law.
The plaintiffs hail from Miami and the surrounding area. They include: Catherina Pareto and Karla Arguello, together for 14 years and raising a young son; Dr. Juan Carlos Rodriguez and David Price, together for 18 years and raising young twins; Vanessa and Melanie Alenier, together for 8 years and raising a child; Todd and Jeff Delmay, together for 11 years and raising a young son; Summer Greene and Pamela Faerber, grandparents who have been together for 25 years; and Don Price Johnston and Jorge Isaias Diaz, who recently got engaged.
Brenner et al  v. Scott et al
(Consolidated with Grimsley and Albu v. Scott)
What's Happening:
Two federal marriage cases have been consolidated by a federal judge, and motions for summary judgment have been filed in each.
Grimsley and Albu v. Scott was filed by the American Civil Liberties Union of Florida on March 13, 2014 on behalf of SAVE, an LGBT organization in Miami and eight married same-sex couples seeking respect for their marriages legally performed in other states.
Brenner v. Scott was filed by private counsel on February 28, 2014 on behalf of a same-sex couple who married in Canada and now live in Tallahassee. The couple is seeking legal respect in Florida for their marriage license, and have named Gov. Rick Scott and FL Attorney General Bondi in their lawsuit.
On April 30, the ACLU of Florida filed a motion for preliminary injunction asking the court to immediately stop enforcing laws barring legal respect for marriages between same-sex couples, adding a recently-widowed Ft. Myers woman, Arlene Goldberg, as a plaintiff in the lawsuit.
The ACLU explained, "Arlene's primary income is her Social Security payment; Carol, who had previously been the toll facilities director for Lee County, had a higher Social Security payment than Arlene. For purposes of determining marital status, Social Security looks to the state of residence, and since Florida does not recognize their marriage, Arlene cannot collect her spouse's Social Security payments as other widows do. The resulting financial hardship will jeopardize Arlene's ability to continue to support Carol's parents."
Case Background:
The lead plaintiffs in Grimsley are Sloan Grimsley and Joyce Albu, who work as a firefighter and a consultant assisting parents of children with developmental disorders, respectively. The women have been together for nine years, married in New York in 2011, and are raising a 2-year-old child together. The plaintiffs are James Brenner and Charles Jones, who married in Canada in September 2009 and have been together since 1988. Brenner works for the Florida Forest Service and Jones is employed by the state's Department of Education.
Huntsman v. Heavilin
What's Happening:
On April 2, 2014, private lawyers filed a lawsuit on behalf of a same-sex couple seeking to marry in Florida. The men, who live and work in Key West, have been together for over a decade, and when they were denied a marriage license in Monroe County, they filed their case.
Case Background:
The plaintiffs are Aaron Huntsman and William Lee Jones, who are celebrating their 11th anniversary this year. Upon filing their case, the men said, "I really feel Monroe County — Key West — if it's going to be done anywhere, it's going to be done here. We have a history. It's a little more open. We're going to change it here."
Dousset v. Florida Atlantic University
What's Happening:
On May 14, 2014, a gay man filed a state lawsuit in the District Court of Appeal for the Fourth District in Florida asking the state to respect his marriage to a man in order to pay "in-state" tuition rates at Florida Atlantic University.
Case Background:
The plaintiff in the case is Gildas Dousset, a student at FAU who legally married his spouse, Paul Rubio, in Massachusetts in 2013. Dousset applied for in-state tuition as the spouse of a Florida resident, but he was denied because the university does not respect his marriage.
Shaw v. Shaw
What's Happening:
On March 17, 2014, a same-sex couple filed a petition for the dissolution of their marriage in Florida. The petition requests recognition for their out-of-state marriage for the purpose of filing the divorce and, additionally, challenges the constitutionality of Florida's ban on same-sex couples from marrying. A brief hearing occurred on March 27, with additional argument scheduled for April 22.
Case Background:
The uncontested divorce petition was filed in Hillsborough County, Florida Circuit Court on behalf of Mariama Shaw and Keiba Shaw, who married in Massachusetts. Under Florida law, it is unclear whether the plaintiffs' out-of-state marriage can be terminated, because Florida does not respect marriages between same-sex couples.
RESOURCES