BREAKING: Florida Attorney General Pam Bondi Files Motion to Intervene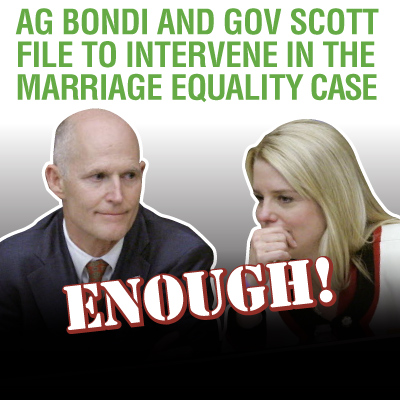 This afternoon, Florida Attorney General Pam Bondi filed a motion to intervene in the Pareto/Ruvin case in Miami-Dade County as a steward of the state.
"It is disappointing that at a time when attorneys general and governors across the country are refusing to defend these discriminatory marriage bans, Florida Attorney General Pam Bondi has decided to pour state resources into defending the indefensible. In decisions by judges appointed by both Democrats and Republicans, court after court has determined that barring loving same sex couples from marriage is unconstitutional, and we look forward to hearing from Florida's courts in the near future. This latest development shows just how out of touch Pam Bondi and the Rick Scott administration are with the majority of Florida voters."  - Nadine Smith, CEO Equality Florida
This is developing and we'll have more information here soon. 
Click here to read the motion.
Take Action and send a letter to AG Bondi and Governor Rick Scott!